Village of Olde Hickory
Click the Map Below to Apply for Your Future Home:
725 Olde Hickory Rd, Lancaster, PA 17601, USA
The Village of Olde Hickory garden apartments and quaint townhouses were thoughtfully planned and situated on 100 acres of open space surrounded by beautiful farmland. The Village has maintained the highest of standards in luxury and quality, enjoying a prestigious reputation for 17 years. Its beautifully landscaped grounds with established shrubbery, large shade trees and lush green lawns provide each residence with a splendid view.
Value. Service. Community.  We are Boyd Wilson.
Our residents receive VIP status in the local community with our Platinum Perks card. Please ask your Leasing Professional to explain the benefits you receive when you choose the Village of Olde Hickory for your new home.
Offering Brand New Two Bedroom Apartments
The Village of Olde Hickory has many options to offer you and we now have 100% brand new homes! Yes, your new home will have new paint, new appliances, new cabinets, and new spotless floors. Everything is new.
Internal Features
Spacious Closets
Central Air Conditioning
Washer and Dryer in your Home
24-Hour On-Call Emergency Maintenance
Dishwasher
Deck or Patio
Cable Ready
Open Floor Plans
Eat-In Kitchens Available
Plank Flooring
Fully Equipped Kitchens
Microwaves Included
One and Two Bedroom Apartments
Two and Three Bedroom Townhomes
Private Entrance in Select Homes
Fireplace in Select Homes
Community Features
Beautiful Views
Community Swimming Pool
Clubhouse
Playground
Maintenance Free Landscaping
Off-Street Parking
Trash Removal
Convenient Location
Common Green Space
Tennis Court
Trails throughout Community
Pet Stations throughout Community
Garages Available
Neighborhood Restaurants and Shopping
Community Retail Stores
Neighborhood Convenience Store
Sidewalks to Grocery Store and Restaurants
Electric Car Charging Stations
Pet Friendly with Breed Restrictions
Clubhouse with Social Room
Complimentary Wifi in Clubhouse
Our Floor Plans:
*Prices change daily.
We are currently offering virtual, self guided and in person tours by appointment only.  For your safety and the safety of others, a mask will be required and a limit of 3 persons per visit.  We will also provide a sanitizing station upon arrival.  We thank you for your cooperation and look forward to helping you find your new home safely!
Yes! Such an amazing place! Jul 04, 2020 09:15 AM EDT
Colleen - Resident Portal
We just moved in and LOVE it so far. Clean, freshly painted, new carpet - it's perfect! May 03, 2020 09:31 PM EDT
Brianna - Resident Portal
My water heater had broke in the evening time. Put in a request that evening and the next morning it was looked at and fixed in a timely manner. Worker was very informative and respectable. May 03, 2020 02:32 PM EDT
Monique - Resident Portal
"Thank you for making our move go so smoothly. We truly enjoy our new place. Do stop by and see us. We are looking forward to spring weather."
Sincerely, Shirley and Lloyd
This apartment was absolutely perfect. You never had to worry about parking. Great location, and I felt completely safe. Very friendly neighbors too. Wouldn't change a thing!! Apr 30, 2020 06:54 AM EDT
Milica - Resident Portal
We rented a townhome in Olde Hickory after we sold our house and while we were looking for a new home. Meeting with the office staff, selecting the right property, and moving in was made to be quick and easy by Susan and Whitney. During our stay, the property management and maintenance staff were responsive and professional and courteous. We lived in an older unit, and it was still very nice, and the area was quiet and well maintained. When we found our new house sooner than expected, Susan and Whitney were again exceedingly fair and very helpful in terms of walking us through ending our lease early and vacating the property. They did everything they could to make the process easy, customer friendly, and financially fair. If we ever find ourselves with a gap between selling and buying again, I will absolutely choose Olde Hickory. Feb 04, 2020 - ResidentPortal - VILLAGE OF OLDE HICKORY
Elspeth - Resident Portal
The Village is a lovely quiet neighborhood. It is a beautiful blend of wide open natural space paired with the convenience of shops and restaurants within walking distance. Also, many of the most frequently visited larger stores are only a short drive away. The staff is helpful and attentive, making a move as pleasant an experience as possible. A friendly welcoming community environment makes you fell at home in no time.
Sep 03, 2020 - Keri - ResidentPortal -
The neighborhood is very peaceful and everyone is super friendly
Oct 31, 2020 - Karina - ResidentPortal -
It's more like a neighborhood than an apartment complex. All the appliances are top of the line. The staff have all been very responsive. It is extremely quiet inside and out. We love it here.
Nov 03, 2020 - Paul - ResidentPortal -
very convenient for everything. Good neighbors so far and quiet peaceful.
Dec 01, 2020 - WILLIAM - ResidentPortal -
grounds well kept, quiet neighborhood.
Nov 30, 2020 - Steve - ResidentPortal -
It is our 3rd time choosing the Village. We love in here.
Dec 07, 2020 - DEBORA- ResidentPortal -
I have lived in a private residence for many years. When my wife and I made the decision to make a move to Village of Olde hickory, I was concerned about losing all of the things that private residence living afforded me such as privacy, ease of parking, low outside noise and friendly neighbors. From the initial part of the application process to now just 1 week since move-in, I have been nothing but pleased with the kind and professional nature of every staff member, their quick responses to questions and concerns, the quality and attention to detail of the apartment we are renting and just how comfortable we are in this new space. I would highly recommend The Village of Olde Hickory.
Dec 07, 2020 - ResidentPortal
Very nice
Dec 07, 2020 - David - ResidentPortal
It's a very pet friendly and inclusive community.
Dec 27, 2020 - - ResidentPortal -
Wonderful place to live.
Jan 23, 2021 - Jake- ResidentPortal -
Watch our Video!
Nearby Communities:
Pioneer Woods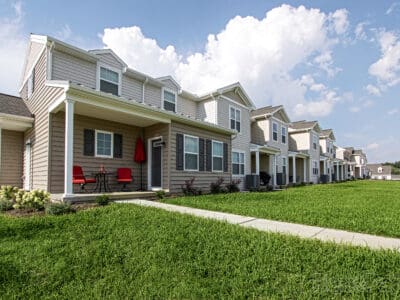 Penn Grant Commons
Newport Commons