Penn Grant Commons
Click the Map to See What's Available:
5 Stonehouse Bend, Willow Street, PA 17584, USA
Call Us or Text our iCare Bot 24/7 at (717) 259-3875
Let's Chat
Penn Grant Commons is located in Pequea Township, Lancaster County, Pennsylvania. This stunning brand new rental community will be situated on 36.55 lovely acres located near Route 272. Penn Grant will offer one and two bedroom apartments and two and three bedroom townhomes with garages, a few of which feature first floor master bedrooms.
The natural landscape at Penn Grant will offer residents views of the surrounding woods and rolling farmland. These apartments and townhomes will feature the distinctive floor plans and functional design one would expect in a Boyd Wilson community. In addition, the site plan was carefully engineered to enhance the community's existing natural features with winding roads and discretely located parking. Penn Grant's proximity to the City of Lancaster and its many cultural destinations, as well as local conveniences will make it one of the area's most prestigious new address.
Value. Service. Community.  We are Boyd Wilson.
Our residents receive VIP status in the local community with our iCare Community Rewards. Please ask your Leasing Professional to explain the benefits you receive when you choose Penn Grant Commons for your new home.
Internal Features
Spacious Closets
Central Air Conditioning
Washer and Dryer in your Home
24-Hour On-Call Emergency Maintenance
Dishwasher
Deck or Patio
Cable Ready
Open Floor Plans
Eat-In Kitchens Available
Fully Equipped Kitchens
Microwaves Included
Ceiling Fans in Select Rooms
Kitchen Pantry in Select Homes
Programmable Thermostats
One and Two Bedroom Apartments
Two and Three Bedroom Townhomes
Private Entrance in Select Homes
Community Features
Beautiful Views
Maintenance Free Landscaping
Off-Street Parking
Trash Removal
Convenient Location
Common Green Space
Garages Available
Views of Surrounding Woods and Rolling Farmlands
Community Gazebos
Pet Friendly with Breed Restrictions
Our Floor Plans:
New Penn Grant Commons West – Coming this Summer!!
Sycamore 2D                 Holly 2D                    Hawthorn  2D
Floor Plans:
Linden I 3D/2D
Juniper I 3D/2D
Hazel I 3D/2D
Bedrooms:
2 Bedrooms
1 Bedroom
2 Bedrooms
Sq. Ft.:
1059 sq. ft.
1097 sq. ft.
803 sq. ft.
816 sq. ft.
1120 sq. ft.
1134 sq. ft.
*Prices Change Daily*
Deposit:
Varies; Please Call for Details.
Floor Plans:
Foxtail I 3D/2D
Laurel I 3D/2D
Mayberry IIA 3D/2D
Bedrooms:
1 Bedroom
2 Bedrooms
1 Bedroom Cottage
Sq. Ft.:
894 sq. ft.
910 sq. ft.
1183 sq. ft.
1200 sq. ft.
911 sq. ft.
*Prices Change Daily*
Deposit:
Varies; Please Call for Details.
Floor Plans:
Mayberry I 3D/2D
Magnolia I 3D/2D
Willow I_3D/2D
Hemlock 3D/2D
Bedrooms:
1 Bedroom Cottage
2 Bedroom Townhome
3 Bedroom Townhome
2 Bedroom Townhome
w/ 1st Floor Master
Sq. Ft.:
936 sq. ft.
1231 sq. ft.
1416 sq. ft.
1362 sq. ft.
1614 sq. ft.
1531 sq. ft.
*Prices Change Daily*
Deposit:
Varies; Please Call for Details.
Evergreen I 3D– 1350 sq ft
Evergreen II 3D– 1371 sq ft
Water and sewer paid by the resident.
Great home — The office staff at Penn Grant Commons is friendly and helpful. They helped us make the transfer to a townhouse when we found out we were pregnant and needed more space. The apartments and townhouses are so nice and all the appliances are in new condition.
CAITLYN D. - JUL 04, 2020 - Resident Portal
Great property and great attentive staff — The best property I have ever lived in during my 35 years of existence.
ALBERTO O. - JUL 01, 2020 - Resident Portal
It is nice — nice, quiet usually . The apartment is roomy and most of the neighbors are nice and friendly and the staff is very attentive.
CARLOS B. - JUN 01, 2020 - Resident Portal
Beautiful apartments — Beautiful apartments that feels more like a townhouse. The grounds are kept very clean. The staff is very professional and courteous. I feel very relaxed when I am home.
MARZETER M. - DEC 31, 2019 - Resident Portal
Clean and Quite — I really enjoy living here. The are is well kept. The open areas are so large kids can play on the grass and stay of the streets.
ERIC S. - OCT 04, 2019 - Resident Portal
I love the walking path around the neighborhood and how the property allows you to add your own decor to the garden areas. I love seeing the individuality with each unit. The apartment is absolutely stunning and spacious. My only complaint is the noise of the traffic going down the highway. I would have preferred a different unit if I had known that was a high traffic side. All in all, I love this property and plan to stay for awhile
Jul 23, 2020 - Nicola - ResidentPortal - Penn Grant Commons -
I am enjoying my time living here at Penn Grant Commons. The staff is super friendly and very helpful in any situation and they are very knowledgeable in helping you through the move- in process. I would definitely recommend to a friend
Aug 29, 2020 - Jessica - ResidentPortal
Living here is awesome Absolutely love the set up of our place. The place was built with great quality Appliances work amazing. Maintenance and property staff are very professional and kind. Landscape of complex is BEAUTIFUL. Any guest that comes over says how amazing our place is
Sep 30, 2020 - Ashley- ResidentPortal -
I moved here a little over a year ago and am really happy living here. Everyone is friendly and I've really enjoyed talking to my neighbors. The front office is very responsive and is great at communicating events and scheduled maintenance. This is a great place to live.
Nov 22, 2020 - Nicholas - ResidentPortal
We have been here since spring 2017. The staff has been responsive to questions or concerns and maintenance is usually handled in a timely manner. The grounds are kept well manicured. Neighbors are friendly with respect for privacy. One thing I would like to see is a community garden. There is definitely space for it out by the ponds. I'm hoping that will happen in the future. Overall, I would recommend this rental community.
Denise W - Google Review- June 2021
We have lived in the same unit since 2016. The development is quiet and well-maintained. The leasing office responds in a timely manner. We appreciate the maintenance staff and landscaping crew. They always do a great job.
Bethany T - Google Review - August 2021
Nearby Communities:
Village of Olde Hickory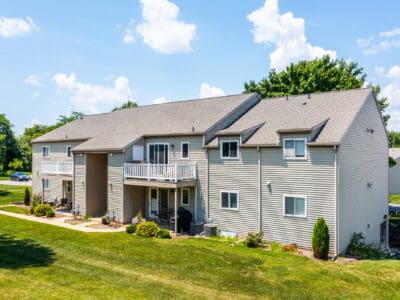 Pioneer Woods
Mill Creek Manor